Daily Meeting Report
471 attendees checked in so far!
Tuesday Morning Plenary, 9:00
Dave Wilson, HEAnet, talked about their work in developing virtual customer premises equipment (CPE) in his presentation, "Virtualising Our CPE". This approach allows them to eliminate routers at the customer end, use less hardware and have a simpler network design. It also gives them agility to enable new customers quickly. Next, Wolfgang Tremmel, DE-CIX, talked about their plans to replace their current switching platform with new hardware from multiple vendors in his presentation, "DE-CIX Apollon – Our New Platform. How We Designed, Selected and Will Build It". The new platform will be more efficient and support 10G and 100G ports at high densities. They will begin the upgrade process next week, and migrate users to it over the next few months. Finally, Alan Mauldin, TeleGeography, talked about the growth of undersea cables all over the world with his presentation, "International Submarine Cable Trends". There has been a lot of growth in Asia and Africa in the last few years, with capacities matching those of trans-Atlantic cables. Dan York, ISOC, asked about potential vulnerabilities and Alan mentioned Egypt and Singapore being areas of concern because many cables pass through or past them.
Tuesday Morning Plenary, 11:00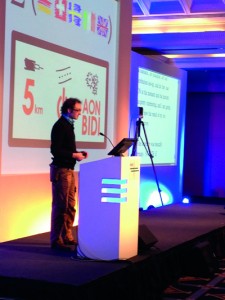 The second Plenary session of the day began with an interesting presentation by flexOptix' Thomas Weible called "FTTx – Find The Technology x". It was followed by ARIN's Chris Grundemann with an in-depth look into the next generation of home networks: "The Future of Home Networking: The HIPnet Solution". Chris emphasised that the key benefits of this solution included directionless home routers, recursive prefix delegation and hierarchical routing. His presentation was followed by several comments and questions from the audience.
The session's final presentation before lunch was a detailed examination of "IPv6 at CiscoLive 2013: Behind the Scenes", presented by Andrew Yourtchenko and Daryl Tanner from Cisco. There were a few queries from attendees in the room and via the chat room asking when Cisco would deploy IPv6 everywhere but the presenters couldn't give a definitive answer.
Tuesday Afternoon Plenary, 14:00
The afternoon Plenary sessions kicked off with three interesting lightning talks. Actually, the first was a "silent talk", as Niall O'Reilly from University College Dublin depicted the need for RIPE community members to participate in the decision-making process in "Thoughts on Community and Decision-making" using only a set of slides. Erik Bais from A2B Internet B.V. made a pitch to get more DShield VPS sensors to give quicker insight into new scans globally in his presentation "ISC SANS – DShield Request", while Tomáš Hlavácek from CZ.NIC described the development of a "Universal Looking Glass". Job Snijders of Atrato Communications gave an entertaining talk (which included his shoe size) in "What's Up With Poor Performance Towards MAC Addresses Starting With 4 or 6?", which explained the strange behaviour seen in these cases along with some potential solutions. Lastly, Manish Karir of DHS S&T Cyber Security Division presented the results of the "IPv6 Darknet Traffic Analysis", which described how extensive Internet pollution was seen in space that should be "dark".
Tuesday Afternoon Plenary – 16:00
Paul Ebersman, Infoblox, talked about various types of DNS attacks, and how operators could defend their servers and users from some of these attacks in his presentation, "DNS: Attack or Defense". Next, Merike Kaeo, Internet Identity, talked briefly about DNS reflection and amplification attacks with her presentation, "DNS Amplification Attacks – Are YOU Part of the Problem?". She said the problem is only getting worse, especially with the large numbers of open resolvers on the Internet. She mentioned a number of mitigation techniques, and stressed that good network hygiene is important.
The session ended with a panel: "Seven Years of Anti-Spoofing: What Happened Since the RIPE Task Force and What Still Needs to be Done", moderated by Benno Overeinder, NLnet Labs, and Andrei Robachevsky, Internet Society. Benno Overeinder did an introduction showing that DDoS attacks are getting bigger and more frequent. The panel was presented with some questions from the moderators as well as the audience. There was a lot of interesting discussion. The general conclusion was that network hygiene is important, the community should do more to get BCP38 and BCP84 deployed because if they don't act soon, regulators may do this for them. Another important discussion was that vendors should ship better defaults and that we should fix unmanaged open resolvers.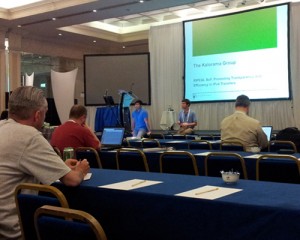 Tuesday's Birds of a Feather (BoF) Session
Representatives from IPv4 broker Kalorama Group gave an introduction to the current dynamics of IPv4 transfer markets in different regions, including market trends, transfer policies, and other related issues.
Participants discussed future policy proposals and forecasts that may affect market dynamics over cold cans of Heineken and Harp.
INEX Party at 37 Dawson Street
There was a great INEX-sponsored party last night at Dublin's hip 37 Dawson Street. Attendees were able to sample some of Dublin's local craft beers, tasty cocktails and great music. Thanks INEX!